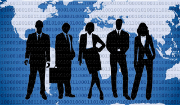 Companies directory itself has always been in great demand, because it provided universal important information about certain public or private organizations. Now there are also directories, but their format has changed somewhat – they have been moved online. In comparison with the printed form, the online business directory is much more attractive and convenient than the local business directory, as it meets the requirements of our time.
The advantage of online business directories :
– Online business directory is convenient primarily because it contains complete information about all businesses, firms and enterprises located in a certain region – their addresses and phone numbers,
– They make it possible to access information from any device – tablets, smartphones and laptops,
– Feedback is an equally important factor, since thanks to them you can easily navigate the quality of the services provided, draw your own conclusions and make a decision,
– The specified working hours of the selected organization will give you the opportunity to plan your visit by coordinating your free time with your work schedule and much more.
Business listing
In general, online business listing is very useful in everyday life and the information it provides may sooner or later be needed (read more on our article about google business local). The most popular business directories for international organizations today is:
Free business directory

This is a new unique portal that contains a large database of European companies. The project was created for the needs of global trade in order to facilitate access to information and help the growth and development of business internationally.
Free business directory Bizin strives to be especially beneficial to the business, helping to increase sales and enable business expansion abroad. bizin.eu contains databases of firms and stores in Great Britain, Germany, Switzerland, Austria, Italy, Denmark, the Netherlands, Norway, Finland, Sweden, Latvia, Estonia, Poland, Belgium, Belarus, France, Spain, Portugal and Ukraine.
The convenient interface of the Direktory portal allows you to choose the information you are interested in in accordance with the country or field of activity. It is much more convenient and saves you valuable time when searching for the necessary business data, contacts and services in other countries.
Business Directory "EuroPages"
The online service EuroPages is a companies directory that integrates European business register systems. Its main goal is to ensure the exchange of uniform databases of enterprises on-line. This business directory catalog provides access to the database of all enterprises registered in a particular state, which is replenished from the original source using the Internet.
Catalog of companies and businesses "Handy"
This site is a leading platform for connecting people looking for personal services with high quality, pre-vetted by independent professionals and common people. From house cleaning to handyman services, Handy instantly matches thousands of clients every week with trusted professionals in cities around the world. With a convenient 60-second booking process, secure payment and a 100% money-back guarantee, Handy is the easiest and most convenient way to book services from home.